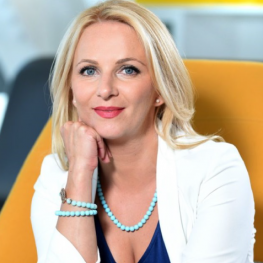 Andreea Mihnea
Director of Human Resources - EY Romania
Head of Human Resources at EY Romania since 2013; Certified local and international Facilitator for Managerial development programs: New Senior, New Manager at EY; Certifications: Hogan Assessment; TracomSocial Styles; Thomas International (DISC), Financial Mgt.; Bachelor degree in English and French languages and literature, Faculty of Foreign Languages, University of Bucharest (2000)
Andreea has over 16 years of experience in human resources and is currently leading the development and execution of the Talent strategy in  Romania. Andreea's approach is that of an internal consultant and an enabler for the business. Her personal mission at EY is cultural transformation through innovation, creativity and activating the internal resources of the people. She is constantly seeking to understand and work on the latest global and regional trends that can transform business models and the human interactions in the work domain.
Among the main achievements at EY Romania:
►becoming number 1 professional service firm as Employer Brand in 2015 (from place 4 among Big
4 2 years before),
►increase of employee Satisfaction survey results by 5 pp,
►igniting the spirit of trust among EY people and leaders,
►driving the cultural transformation towards a more agile organization,
►driving change and innovation through the first innovation platform at EY Romania.
Some of the previous key projects in which she was involved are presented below:
►IBM–opened the first nearshoring center for IBM – Global Delivery Center in 2006 by enabling the
organizational structure, recruitment and HR operations setup. Now still booming, over 1500
people working for IBM global.
►IBM–regional HR Business Partner for IBM Software Group CEE (21 countries)  and for IBM's
Consulting division, GBS, for SEE (5 countries).
►Paypoint – led the Organizational transformation of a Retail business into a Financial Services provider after the local firm was acquired by PayPoint PLC;  this involved downsizing, reskilling, resizing and HR operational and Talent Management setup.
►Tchibo–a one year project enabled the transformation of a purely FMCG organization into a Retail and FMCG hybrid involving reorganization.