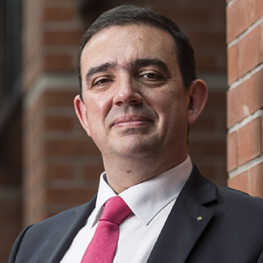 Herbert Castéran
associate professor
Elected by EM Strasbourg Business School's Board on 4 May 2016, Dr. Herbert Castéran has been officially appointed Dean of EM Strasbourg Business School by the French Ministry of Higher Education and Research. Dr. Castéran was elected for a five-year mandate and succeeds Dr. Isabelle Barth who served in this position since May 2011.
Dr. Casteran, 46, is associate professor and member of the HUMANIS research laboratory at EM Strasbourg Business School. He holds a Bachelor's degree from Science Po Toulouse, and Masters' degrees in Statistics and Econometrics and in Research in Econometrics and Quantitative Economics, as well as a PhD in Management Sciences from Toulouse I University. He joined EM Strasbourg Business School in September 2010 as Director of Studies of our work-study/apprenticeship programme in marketing. A few years later he founded the Masters' degree in Tourism Management that he supervised until his appointment as Dean.
Dr. Casteran's research focuses on such themes as customer lifetime value, tourism and big data, and in particular on measuring the efficiency of marketing activities. Acknowledged for his expertise in impact studies, he has consulted a number of businesses and institutions. Thus, in 2012 and in 2015 he researched the economic impact of EM Strasbourg Business School on the Alsace region. Later on he used his methodology to study the impact of Air France's financial situation on metropolitan France, a study that he re-conducted in 2016.
Dr. Castéran is also the co-founder of the Observatory of the world-known Strasbourg Christmas Market.
Courses